 Heidi Tabing
Asian American voice actor, author, artist
Recording for video games, animation, and audiobooks since 2007
Remote-capable broadcast quality home studio
she/her
Animation Demo
Video Game Demo
Commercial Demo
---
Vocal Description
Voice: feminine, youthful, energetic, sweet, clear, expressive, captivating, amiableVocal Archetypes: girl next door, princess, hyper brat, energetic hothead, strong independent woman, femme fataleAccents: General American, valley girl, southern US, RP English, French
Home Studio Specs
| | |
| --- | --- |
| Microphone | Austrian Audio OC18 |
| Interface | SSL2 |
| DAW | Audacity |
| Booth | StudioBricks One VO Edition |
| Sound Floor | -60dB when normalized to -3dB, or -65 to -60dB at -23lufs |
Raw Studio Sample
Other Equipment by Request
Neumann TLM 103

2 x sE Electronics 4400 (for stereo recording)

2 x Clippy EM272 in silicone ears (for binaural recording)

Zoom F3
Visual Reel
Notable Roles
Training
NYC vs Boston Accents with Keri Safran

The Art of the Live Action Dub with Greg Chun

ADR from Home with Tony Oliver

5-Step Character Voice Acting Coaching with Richard Horvitz

3-Week Video Game Clinic with Cassandra Lee Morris

Character Voice Acting Coaching with Richard Tatum

Character Voice Acting 101 with Julie Maddalena

Commercial Voice Coaching with Dave Bisson
---
Game Development
| Game | Position | Developer |
| --- | --- | --- |
| Perished Truth | Script Proofreader | DeVoid Studio |
| Merci Griffin: Legendary Lawyer | Script Proofreader, Sensitivity Reader | Pompous Productions |
| Bright Blades | Icon Artist, Script Proofreader, QA Tester | Sam Rowett Games |
About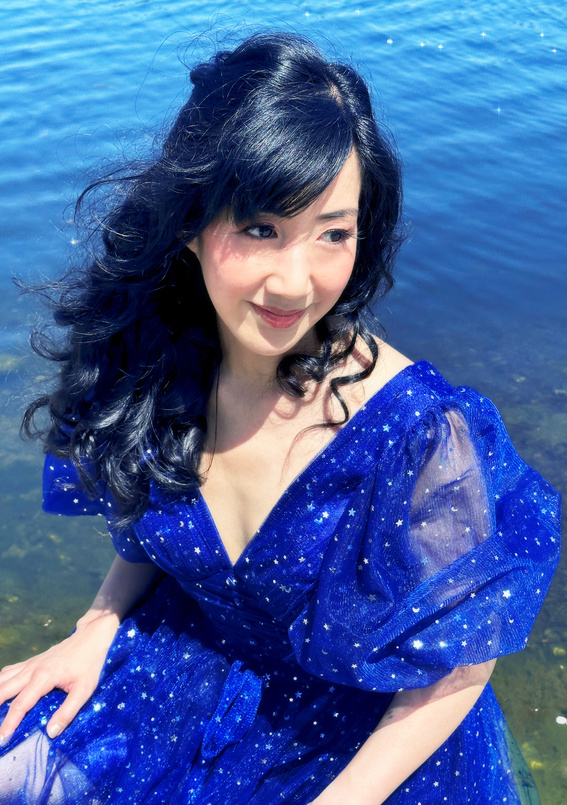 Heidi Tabing is a Chinese-Filipino-Japanese American voice actor, author, and artist (though you're probably here because of voice acting, huh? No worries, I totally get it). She's asexual 🖤🤍💜 and a highly-sensitive person, which basically means she can cry on command. (Yay, it actually has useful real-life applications!)She does voice-over full time from her home studio. She's dedicated to her craft, and eager to please (a result of her Asian-American upbringing 😭), so she can deliver quality results with a quick turnaround. She's been voice acting for video games, animation, and audiobooks since 2007, and started voice acting full time in 2021 after switching gears from writing.She has a useless psychology degree and minor in theater from the University of California, Davis, where she also dabbled in fashion and costume design.
---
JRPGs influenced her from a young age. Chrono Trigger in particular had inspired her to start writing fiction. She has yet to find another game that made her feel the same way she felt when she first played Chrono Trigger. Sigh... When she got her first laptop, she saw an opportunity to voice beloved unvoiced characters from the Final Fantasy series. Needless to say, she sucked, but hey, you gotta start somewhere. Regardless of the quality of her early videos, the community encouraged her to continue on, and man, she's glad she switched to voice-over full-time, because wow is the publishing industry draining.To this day, she still plays video games to unwind and find inspiration. Recent notable favorite series are Ace Attorney, The Legend of Zelda, and Dishonored, and boy howdy, does she love stories that make her cry. (Professor Layton vs Phoenix Wright and Spirit of Justice. Mmm. It hurts so good 😙👌) So if you discover a heartfelt story that will make an overly-emotional person cry, feel free to throw out a recommendation!
---
Here are some pics she took in her super cool sparkly dress and then some, because it would be a shame to pretend they don't exist. She used to consider herself quite vain, and then the pandemic happened. Oh well. You live, you grow a bit, and then realize what's really important, like not showing your face unless you need to.
She has a cat named Bubbles, but she's usually called anything but. Baby, usually. Bubbakins, Babykins, Baby-cakes, et cetera, et cetera. Cat parents know how it is.Heidi loves cats. Nothing against dogs, really, except she's allergic, and breaking out into hives every time she touches such lovable, slobbering, excitable balls of fur means she doesn't know how to play with them. She's also allergic to nuts. That's a funny story...Anyway, Bubbakins has a goatee, and it's the actual best.